K&R Hydraulics Partnered With Hydac Industrie 4.0
Industry is currently navigating an information revolution. Referred to as Industrie 4.0, K&R Hydraulics have partnered with Hydac to provide access to the very latest technology in condition monitoring equipment.
We can provide equipment that not only measures parameters such as hydraulic fluid cleanliness, water content, pressures, flowrates and temperature; but can also data log this information and/or send the information to a remote device such as a PC or smartphone. You can potentially receive a message on your phone, notifying you if monitored parameters exceed limits set by you.
There are massive potential gains to be made in substantially reducing both downtime and maintenance costs, by knowing immediately when your equipment requires attention.
Leading industries world wide are taking advantage of the latest tools evolving from this technological boom.
Predictive maintenance in practice
Wind energy – wind turbine gearbox
Task:  To monitor the gearbox lubrication system online in order to prevent secondary damage and also production stoppages (electricity generation).
Solution: Installation of a MetallicContamination Sensor (MCS) for full-flow monitoring of the lubrication circuit.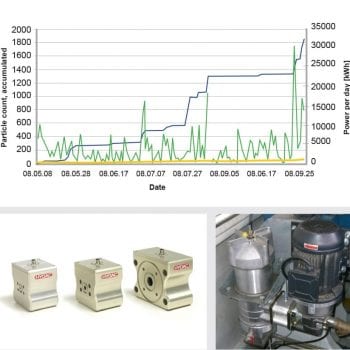 Result
As the image shows, a MetallicContamination Sensor (MCS) was used to detect a bearing failure.
The curve shows the number of accumulated particles, i.e. the amount of metal detached from the driving gear. Each jump corresponds to one or more detected metal particles.
The first warning was confirmed by a visual inspection because the main bearing showed slight damage but this was classed as non-critical. Consistent with this, a repair was planned and until then the wind turbine could continue to be operated at 80% capacity (the lower curve in the graph shows the power generated).
The progress of the damage was monitored until the bearing repair was performed.
No unplanned maintenance or downtime was required and the costs for a new gearbox (roughly €360,000) could be avoided.
Mobile industry – mining vehicle fleets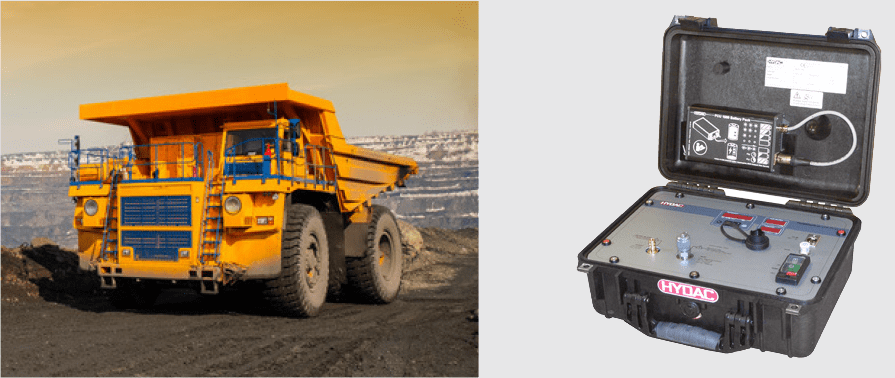 In the mining industry availability and efficiency are paramount.
Task:  Reduce unscheduled maintenance, extend the service life of critical components and oils, increase availability and efficiency.
Solution:  Use of portable particle counters and offline filtration, both periodically and when limit values are exceeded. Depending on the local circumstances, sample bottles, portable particle counters and online sensors are used to detect excessively high contamination levels.
Result: Unplanned maintenance work was reduced, availability and component service life was increased (availability +10%, reliability +35%, unplanned repairs -35%)
Steel industry – rolling mills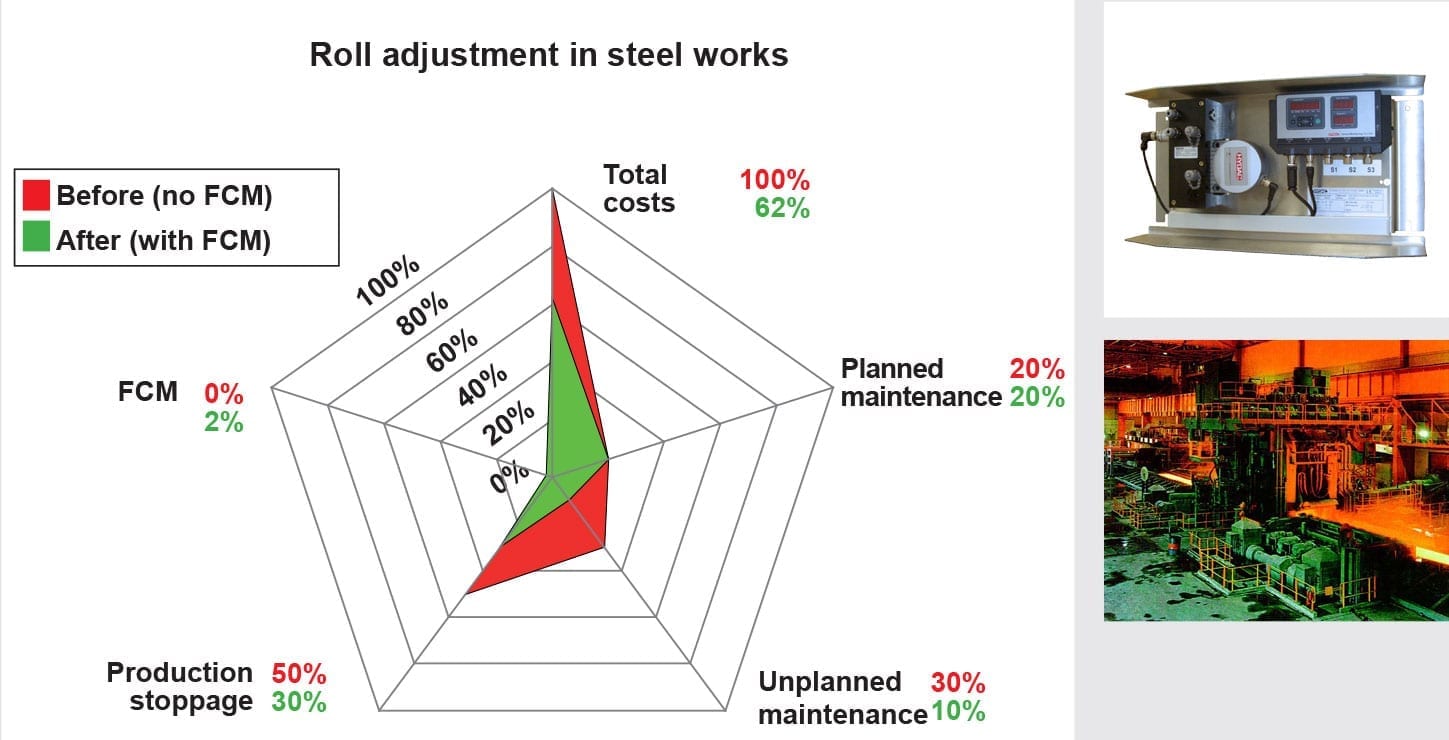 In rolling mills the operating fluid for controlling the rolls is exposed to very high rates of solid-particle and water ingress. This is inherent to the conditions of hot/cold rolling processes.
Task:  To reduce unplanned maintenance and downtime costs by installing fluid sensors.
Solution: Standardisation of a Fluid Condition Monitoring subsystem and its integration in the hydraulic circuit. The subsystem consists of a visual particle sensor, a water sensor and a data-logging device with display.
Result: The maintenance and downtime costs could be significantly reduced.
If you're interested in embarking on the Industrie 4.0 journey and need assistance getting started, contact sales@krhyd.com.au or phone 02 4966 3743. We can help fast-track you onto the path being taken by the world's leading-edge industries.